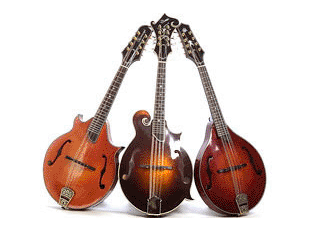 Pricing
R2 style $2500
Silver Angel F style $4000
Fantasma $3000
A Style $2000
These prices are the basic prices for a fully bound mandolin: top, back, neck and headstock. Any special bindings or colors will be optional. Also optional are special woods or particularly rare pieces of curly maple. The cast bronze "orrico" tailpieces are also optional. Since all custom orders are different, call for pricing on any option including oil paintings, relief carving and custom inlays.
I offer a lifetime warranty to the original purchaser against structural defects. All my mandolins sound well broken in from the beginning. Each mandolin comes with a two day trial period. With care, these instruments will last throughout the years and will sound better all the time. I hope you will consider one of my mandolins as a purchase that will endure for many generations to come.
***Please note that  my distressed models, although much more work, are the same price as my non-distressed, $4000.